Plot for sale Antigua - Windward - IP.#007
1.5 ACRE - SQFT 65.688 | SQMT 6.103
DESCRIPTION - VILLA UNDER CONSTRUCTION FOR SALE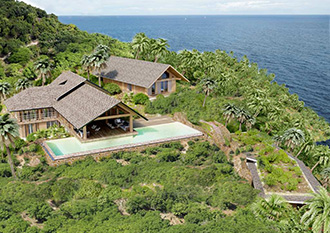 Waterfront, hillside plot for sale in Windward Estate for private residence. Located between Pigeon Beach and Windward Bay, just behind the renowned sailing world's premier port of Nelson's Dockyard in English Harbour on the south-east coast of the Caribbean island of Antigua. The location is about 30 minute drive from the capital of St. John's and from the V.C. Bird International Airport. The project includes an area of approximately 93 acres of waterfront, prime land. The full projectincludes 32 luxury waterfront villas (7 of which are already completed and sold) developed on plots of approximately 1.6 acres and 4 waterfront turn-keys villas on plots measuring approximately 0,5 acres. The project is divided into 3 distinct phases, the first one has been already completed.
Our project on Plot #7 consists of four units interconnected with natural stone pathways.
Building A splits on two levels.
The main level includes the common areas: kitchen, dining room, living room and a guest bathroom. The spacious veranda overlooks the pool - The location boasts glorious panoramic ocean views and the gentle sea breeze is refreshing.
The lower level of Building A includes a bedroom, housekeeper / nanny bedroom, laundry room and utilities rooms.
Building B – Cottage, Incudes two guest bedrooms with private bathroom and veranda.
Building C – Cottage, Incudes two guest bedrooms with private bathroom and veranda.
OPTIONAL - Building D is a self-contained cottage with one bedroom, bathroom, living space and kitchenette.