Jabberwocky Antigua Private Charter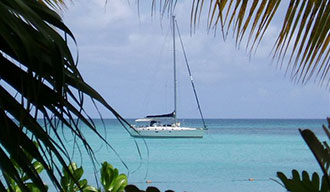 Jabberwocky offers the finest day charter yacht for group of 2 to 8 people (10 by special arrangement). Jabberwocky is a 50 foot long, comfortable and spacious sailing yacht, with an experienced British Crew: Nick and Kaye are RYA trained and safety conscious with many years of sailing experience.
Whilst lunch is freshly prepared by their onboard chef, enjoy a glass of wine or a cold beer. An open bar of local beers, wines, water and sodas is available throughout the day.
Stay Overnight and enjoy dinner under the stars.
By special arrangement exclusive to guests staying at Sea View Heights Antigua villas, Jabberwocky will pick you up from the beach at the foot of Galley Bay Heights and subject to the chosen itinerary for your charter will return you to the beach at the end of the charter. This arrangement is subject to suitable weather conditions.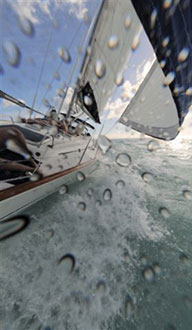 Prices and Booking Information
(Please ask for Christmas & New Year Weeks prices)
Day Charter
Commencing 10.00am to approximately 4.30pm
Including hire of yacht and crew, freshly prepared lunch and an open bar of house wines, local beers and sodas throughout the day.
2 guests – US$700
4 guests – US$800
6 guests – US$900
8 guests – US$1.100
Overnight Charter
Including canapes at sunset, dinner, bed and breakfast and an open bar of local wines, beers and sodas throughout the charter. The day charter rate (see above) plus US$200 per person per night (maximum 6 guests) EVEN TO BARBUDA!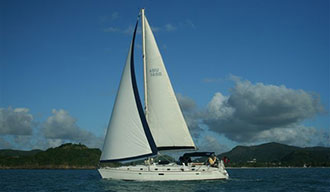 Availability and booking information
Once dates and costs have been confirmed a firm booking can be made by telephone or email.
We will require credit card details to secure the booking, but we will NOT debit the card unless you cancel less than 28 days before the charter date when a 20% cancellation fee will be charged.
Otherwise we will require FULL PAYMENT IN CASH on the day.
Payment will be accepted in US Dollars (cash or travellers cheques), EC Dollars or Sterling.
Booking in advance will secure your trip and allows us to personalize your itinerary.
Jabberwocky conforms to strict company and international regulations in relation to safety of customers and crew. Annual governmental safety inspections are carried out and certificates are issued and are available for inspection.
Sea View Heights, as Real Estate and Rental Agency, is not responsible for the change in the prices, timetable and days of the tours. If you are interested in taking part in any of the tours shown, please contact the manager of the agency, Miss Katia Fattarelli through e-mail or phone 1 (268) 462-6266.