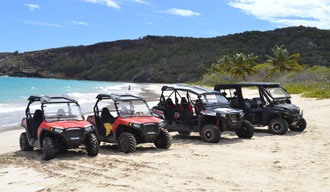 Embark on an exciting off-road adventure in Antigua with our guided, 4WD tour. "Antigua Buggys" is a fun shore excursion, where you get to drive your own 4x4 off-road buggy!
This is your chance to see the most of what antigua has to offer! We will be exploring the island as a group, your tour guide will make several stops along the journey to point out fascinating places of interest.
On the adventurous "Antigua Buggys" Tour, you can experience the island of Antigua in an up-close and personal way. Feel the breeze flowing through your hair as we traverse the sand along a beautiful sandy beach, smell the fragrant hibiscus on the country roads and feel the cool air as we pass through the lush, tropical rain forest on Fig Tree Drive. It's an exciting shore excursion like no other. Easy to drive, all of our Polaris vehicles are automatic. Come and discover Antigua with "Antigua Buggys". We are the first and the best off-road buggy excursion on the island!

All drivers are required to pay a U$20 fee for an Antigua & Barbuda Driving License. This permits you to drive on the road for 3 months… (not our rules but the Government's).
GROUP TOURS: We now can cater for large groups up to 32 people.
All tours are led by an experienced guide, who will drive in the front vehicle. We will start just outside at West Coast Village in Jolly Harbour and visit:
• Wallings Dam and Forest
• Historic Fort George
• Swimming & Snorkeling
• Slow drive back through Fig Tree Drive to West Coast Village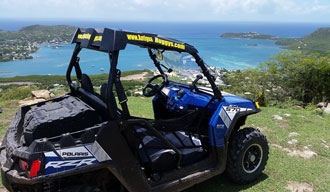 What to bring:
Wear comfortable clothes NOT fancy - as you will get dusty, good pair of sunglasses, beach towel, sunscreen, valid driver's license. Drivers must be 25 years or older. No children under 7 allowed. All of our Polaris vehicles are automatic.
Rates:
Tour Length 4 hrs. US$149 per person (all inclusive, Caribbean lunch, soft drinks, no alcohol).
* Itinerary and/or rates subject to change without notice.
Sea View Heights, as Real Estate and Rental Agency, is not responsible for the change in the prices, timetable and days of the tours. If you are interested in taking part in any of the tours shown, please contact the manager of the agency, Miss Katia Fattarelli through e-mail or phone 1 (268) 462-6266.