Creole Cruises - with their 40 ft Pirogue boat offers you the following tours:
The famous lobster lunch tour, Full Day Tour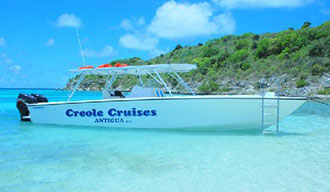 This relaxing journey will show you the most beautiful sites of the Northern coast of Antigua. Start your cruise from Jolly Harbour and head towards Five Islands Bay. Observe the elegant Egret bird and Pelicans fishing and hunting in their natural habitat.
Continue the boat ride on the North Western side past Fort James along the picturesque coastline to Dickinson Bay - rated one of the best beaches in the Caribbean. The journey continues on to a secluded island off the North Eastern Coast of Antigua- Bird Island- where you will be able to snorkel in pristine clear water. Discover the island and relax, while a sumptuous local lobster lunch will be freshly prepared on the beach. Enjoy the gorgeous taste of your lobster fresh out of the shell with Glen's special homemade old-fashioned rum punch or any drink from the bar. After lunch, a short nature walk will take you to the top of the Island where you will have beautiful views of the surrounding islands, the North Sound, Antigua mainland, as well as looking at the blow hole way below you, and spot lots of wildlife. Later on, we will take you to the starfish garden- a secluded spot with its variety of tropical fish and starfish before taking a gentle ride back.

Your lunch
Lunch includes lobster, pasta, potato and green salads, garlic bread, along with drinks. Should you have any special meal requirements please let us know in advance. Chicken, fish, Vegetarian and hamburgers are available on request.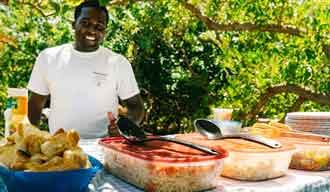 Time of tour - 9am to 3.30pm
Check in - 8.45am at Jolly Harbour Marina (behind Grand Princess Casino).
Other pick up points include - Hawksbill, Royal Antiguan, Coconut Beach Club & Dickenson Bay & the Cruise Ship Dock at St. John's
Cost: US$130 per adult, US$100 per child aged 3-9 years old - children under 3 are free.

Sea View Heights, as Real Estate and Rental Agency, is not responsible for the change in the prices, timetable and days of the tours. If you are interested in taking part in any of the tours shown, please contact the manager of the agency, Miss Katia Fattarelli through e-mail or phone 1 (268) 462-6266.