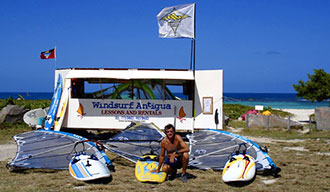 Windsurf Antigua is a mobile operation based at Jabberwock Beach.
Located on a beautiful white sandy beach facing the trade winds on the island's northeast coast, we are just 5 minutes from the airport.
Conditions suitable for beginners and advanced shredders available at this one site. Equipment rigged and ready at the waters edge. On-shore wind averaging 12-18 knots, makes this the best and safest place for windsurfing in Antigua.
Equipment rentals are available.
Windsurf Antigua: providing our visitors and residents alike with professional and dedicated services, and contributing to the development of "beach culture" in Antigua!
Antigua's most respected instructor Patrick Scales has been teaching windsurfing for 25 years. Specializing in teaching beginners, Patrick guarantees getting you up and going in one lesson.
Class size from 1 to 4 persons ensure personal attention.
Beginner Lessons
2 Hours
US$90.00
(1 hour instruction and 1 hour use of equipment)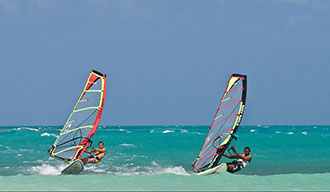 Intermediate/Advanced Lessons
Per Hour
US$60.00
Water-start, beach-start, jibes, harness use etc..
Sea View Heights, as Real Estate and Rental Agency, is not responsible for the change in the prices, timetable and days of the tours. If you are interested in taking part in any of the tours shown, please contact the manager of the agency, Miss Katia Fattarelli through e-mailor phone 1 (268) 4626266.