Jolly Dive Antigua Scuba Diving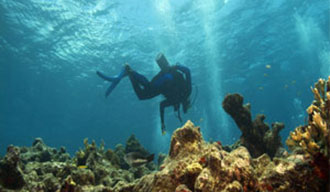 Jolly Dive has been operating from Jolly Harbour for the past 25 years and is staffed with both PADI and NAUI qualified instructors. We are the Antigua's leading SCUBA tour operator and offer daily dive excursions Monday thru Saturday. On Sunday, we go out on dives by special request. Cade's Reef is only 15 minutes boat ride on their boat "Diving Belle Too". This location offers a wide variety of good dive sites where there is an abundance of marine life. In addition to dive excursions they also provide PADI training at all levels of expertise: PADI Discover Scuba Diving Course; PADI Open Water Referral Course; Open Water Diver; Advanced Open Water Diver.
Jolly Dive is a full service facility with a dive shop on the beach and a retail outlet located in the Jolly Harbour shopping complex. We offer also tank fills and equipment sales and service.
For first time divers– the discover scuba diving course is a one day course which allow you to quickly and safely experience for yourself the wonders of SCUBA diving. We will explains about the theory of scuba diving and the proper techniques to dive safely in the pool. After you have finished with the scuba diving theory course, you're off to the pool for some practical experience. You'll need to demonstrate to your instructor that you understood everything you learned in the diving theory class. Once you have finished with your pool class, you are ready to go aboard the dive boat ! Now you're off to Cade's Reef with the other divers. You'll get to see for yourself what SCUBA diving is all about. Your diving guide will be nearby to assist you if necessary. The incredible underwater wonders of SCUBA diving have to be experienced to be believed.
For certified divers – We offer daily dives and 3 day and 5 day packages with or without equipment rental, and we can certify your open water dives.
The comfort and safety of our guests is of the utmost importance to us. We keep a staff member on board the dive boat during all of our dives
CERTIFIED DIVERS
US$60 - Single Tank – includes tank and weights
US$85 - Single Tank – includes all equipment except wet suit
US$90 - Two Tank – includes tank and weights
US$115 - Two Tank – includes all equipment except wet suit
DIVE PACKAGES
US$255 - 3 days – Two Tank – includes bottle and weights
US$310 - 3 days – Two Tank – all equipment except wet suit
US$395 - 5 days – Two Tank – includes bottle and weights
US$475 - 5 days – Two Tank – all equipment except wet suit
EQUIPMENT RENTAL
US$25 - Regulator and BCD (fins, mask and snorkel provided)
US$8 - Wet Suit (3mm shortie)
US$25 - Extra passengers / snorkeling only
-The boat departs for a guided two tank dive at 9am and returns approximately at 1pm. We normally begin with a deeper dive between 60 and 70 ft. (18-22m), followed by a second shallower dive at a new location between 30 and 45 ft (10-14m).
-The one tank dive is a shallow afternoon dive that is perfect for beginners, training dives and for certified divers who wants to enjoy and easy dive. They depart at 1pm and return at 3.30pm.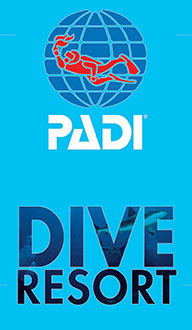 PADI COURSES
Padi Discover Scuba Diving Course 1 day course including theory, all equipment included and 1 reef dive - US$110
Padi Scuba Diver Course 2 days Course includes text, all theory and pool sessions, equipment, 2 open water dives and certification card - US$345
Upgrade from Padi Scuba diver to Padi Open water diver - US$205
Padi Oper Water Referral - all equipment included if you have completed your book theory and water course you can complete your open water dives and get PADI - US$320
Padi Open Water Diver Course4 days course, includes text, all theory and pool sessions, equipment, 4 Open water dives and certification card - US$499
Padi Advanced Open Water Course 2 to 3 days includes text, 5 open water dives including deep and Navigation, equipment and certified card - US$380
Equipment Rental For Courses - US$45
Cade's Reef is our primary diving location. It is only a 20 minute boat ride aboard our dive boat to the southwest side of the island. This 7 mile long caribbean reef system offers a wide variety of dive sites with many types of marine creatures including hundreds of colorful corals, tropical fish, lobster, stingrays, barracuda, turtles and other exotic wonders.
Another of our favorite dives, although shallow, is Fryers Shoal. About a mile and a half off Jolly Beach this 20'(6m) knoll is the perfect spot for the first timer and very popular with our certified divers as a photo location.
Continue your education
You can easily continue on to complete your Scuba Diver Certification or your Open Water Diver Certification course. Your one day Discover Scuba Diving course can be credited towards either of these goals. If you have already completed your book theory and confined water courses at home, you can complete your Open Water dives with us and become certified.
We have a great team of multilingual instructors so you'll have no problem at all communicating in english, german, or french. We also like to practice our italian and spanish skills on our friends from latin speaking countries.
Sea View Heights, as Real Estate and Rental Agency, is not responsible for the change in the prices, timetable and days of the scuba diving courses. If you are interested in taking part in any of the scuba diving courses shown, please contact the manager of the agency, Miss Katia Fattarelli through e-mailor phone 1 (268) 4626266.