Creole Cruises - A bordo di una barca Pirogue di 12 metri, offre i seguenti tour:
Il famoso tour con pranzo all'aragosta, Giornata Intera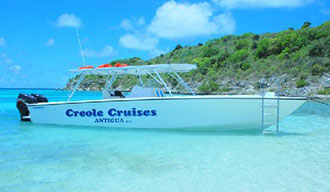 Il tour predilige l'avventura e vi farà ammirare gran parte della costa settentrionale di Antigua. Partendo da Jolly Harbour si dirige verso l'isola di Bird Island, oltrepassando Five Island, il porto di St. John's, Fort James, Dickenson Bay, l'isola di Jumby Bay e Long Bay. La barca sosta su Bird Island, dove sarà servito il pranzo a base di aragoste alla griglia. Sulla piccola isola si può passeggiare attraverso sentieri fino al punto più alto, praticare lo snorkeling, prendere il sole e fare dei bagni rilassanti nelle acque calme.
Il Pranzo
Il pranzo include aragosta, pasta e insalata di patate. Se l'aragosta non è di vostro gradimento, è possibile su richiesta, sostituirla con pollo, pesce, hamburgers o pasto vegetariano.

Durata del Tour - 9am to 3.30pm
Check in - 8.45am al Jolly Harbour Marina (dietro il Grand Princess Casino).
Other pick up points include - Hawksbill, Royal Antiguan, Coconut Beach Club & Dickenson Bay & the Cruise Ship Dock at St. John's.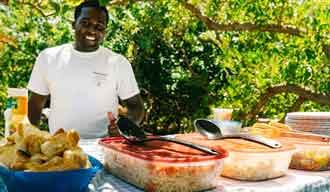 Prezzo: US$130 per adulto, US$100 per bambini dai 3-9 anni - bambini sotto i 3 anni gratis.

Sea View Heights, quale agente turistico, declina ogni responsabilità circa cambiamenti di prezzi, orari e giorni dei tour. Se interessati a partecipare a uno dei tour illustrati, rivolgetevi alla manager dell'agenzia, Katia Fattarelli via e-mail o al numero 1 (268) 462-6266.