A new wonderful project for your dream villa in English Harbour, Antigua.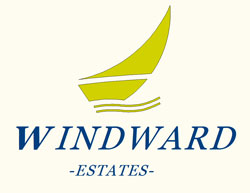 Windward Estates is located between Pigeon Beach and Windward Bay, two of the most beautiful beaches of the island, just behind the renowned sailing world's premier port of Nelson's Dockyard in English Harbour, on the south-east coast of the Caribbean island of Antigua, at about 30 minute from the capital of St. John's and from the V.C. Bird International Airport. The project includes an area of approximately 93 acres of prime, waterfront land.

This idyllic seaside location radiates a tranquil ambience yet resides only a few miles from English Harbour which offers fine dining, shopping, yachting, clubs and recreational pursuits. Sites on the highest elevation, this development will exceed the expectations of the most sophisticated property owner; offering exceptional panoramic ocean views.
The project, started on April 2013, includes 32 luxury waterfront villas (7 of which are already completed and sold) developed on plots of approximately 1.6 acres and 4 waterfront turn-key villas on plots measuring approximately 0,5 acres.

The project is divided into 3 distinct phases as follow:

PHASE 1: all the parcels of Phase 1 are sold and includes:
- Entrance gate with security 24h/7 days per week - completed
- Sales and technical office - completed
- Catherine's Café Plage, one of the best restaurant in Antigua, opened in November 2014
- A boutique hotel; it will offer between 12 to 18 luxurious rooms in b&b with a main reception and a large pool 15 x 6 mt.
- Tennis courts
- 3 ultimated villas
PHASE 2: is the second stage of development
- 15 PLOTS of 1,6 Acres AVAILABLE: 1, 2, 3, 6, 9, 10, 11, 12, 13, 14, 15, 16
- PLOT 4: Sold, under construction
- PLOT 7: Available; under construction
- PLOT 8: Sold, completed
- 4 PLOTS of 0,5 Acres (A1; A2; A3; A4) available for our SPECIAL-TURN KEY VILLAS
PHASE 3 is the last phase of our project. It includes the remaining hillside plots.
- PLOTS from 17 to 25: Available. WORK IN PROGRESS
In order to preserve continuity and elegance and optimize the relation of the homes to the landscape, each villa is built using standard guidelines in respect of the natural beauty and serenity of the location. An established home owner's association as well as private home management team is in place for your peace of mind.

This 24-hour guard-gated community is considered to be one of the most treasured and prestigious of the island. Windward Estates will be only accessible to property owners, and guests, enhancing the privacy of this most idyllic setting.
Sea View Heights, in conjunction with the developer of the project, will be pleased to provide you with further information and to answer all your questions about Windward Estates.
Download Masterplan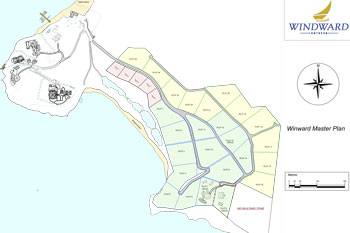 Quick Facts:
• Hillside, waterfront and beachfront plots - Average 1.6 acres land size
• 4 plots - Average 0.5 acres land size
• 93 acres of land
• 500mt of beach
• Antigua's most reputable Architects and Developer are involved