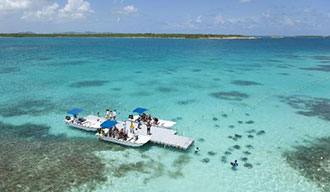 Stingray are thought to be really dangerous animals, and while their stingray still have their barbed spine you will find that their stingrays are like big puppy just looking for a bit of attention and a handout. With your attention to the instructions given by their stingray handlers you will find you are at not time at any risk from the stingray. This is an extremely safe, fun and educational experience. The tour starts with a short ride on calm water that will take you to stingray city. Here you will be able to pet and feed Southern Stingray. You can snorkel on coral reefs with colourful fish life. On their land base enjoy the company of monkeys and parrots and the hospitality for their team.
PRICE: US$50 (5 years and up)
Sea View Heights, as Real Estate and Rental Agency, is not responsible for the change in the prices, timetable and days of the tours. If you are interested in taking part in any of the tours shown, please contact the manager of the agency, Miss Katia Fattarelli through e-mail or phone 1 (268) 462-6266.