Imagine sailing off to a deserted tropical island... Feel the sun on your skin and the wind in your hair as you sail through the Caribbean Sea towards paradise. Snorkel in crystal clear waters before enjoying an alfresco lunch with your new found friends. Who said dreams never come true?
Indulge in your dreams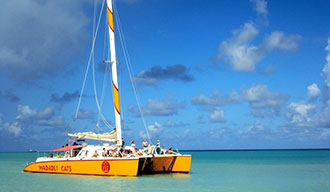 with a day aboard one of our fleet of catamarans which cruise gracefully around the island of Antigua daily. Whether you want a lazy day lying back in the breeze, or an action packed day of snorkelling and swimming, we can do it all, with the back drop of great music, tasty food and excellent company. Choose from a Circumnavigation, Bird Island, Cades Reef, or charter us for your private party or group and we go where you take us!

Circumnavigation – Tuesday, Thursday & Saturday
Adult US$110 – Children under 12 US$55

Cades Reef Cruise – Wednesday
Adult US$95 – Children under 12 US$48
Bird Island Cruises – Friday
Adult US$110 – Children under 12 US$55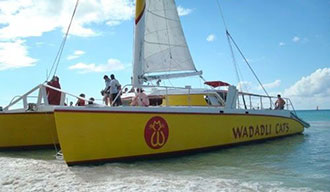 Private Charter
Wadadli Cats has five catamarans available for tailor-made private charters for all capacities. For a reasonable price including Captain and crew, we can provide a boat for a romantic sunset cruise — always very popular with wedding groups — or a day cruise with swimming, sailing and snorkelling. We provide superior service, great music, a full open bar, and delicious catering from our own kitchen. Price on request.
Sea View Heights, as Real Estate and Rental Agency, is not responsible for the change in the prices, timetable and days of the tours. If you are interested in taking part in any of the tours shown, please contact the manager of the agency, Miss Katia Fattarelli through e-mail or phone 1 (268) 4626266.