Antigua Tropical Adventures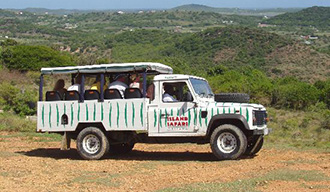 Antigua Tropical Adventures offers both Cruise tours and Land tours.
Island Safari Gold -Rates: Adults: US $115 Children: US $65 Infants: US $25
Enjoy the Best that Antigua has to offer. Sit in optimum air-conditioned comfort aboard your SUV-GOLD
Your knowledgeable tour guide will entertain and enlightened you on Antigua's past and present.
This extensive sightseeing tour visit the following sites: Devils Bridge, Betty's Hope, Donkey Sanctuary, Block house, Shirley Heights, Nelson Dockyard, Fig Tree Drive, West Coast for lunch and beach relaxing and much more! Activity Level: easy – moderate (off-road jeep ride may include bumps)
Island Safari & Half Moon Bay –Rates: Adults: US $110 Children: US $60 Infants: US $25
See and learn about the history and culture of beautiful Antigua. Visit the most stunning scenery on our island. Get the best photo opportunities on this shore excursion. This fun filled day will lead you to the South-west coast, rainforest and South-eastern side of Antigua – where you can enjoy some new, spectacular stops including;
Walling's Dam- a tranquil spot in the countryside
Falmoth Harbour- for an incredible view
Caribbean Lunch- at the Road
Witness the beauty of isolated, Willoughby Bay – with its many coral reefs. The mystique of Half Moon Bay will entrance you while we stop for a refreshing swim in the calmer side of this world famous beach. Swimming and Snorkelling is optional.
A perfect tour for explorers and people who enjoy taking photographs.
Activity Level: Easy (Off-road jeep ride may include bumps. Snorkelling is optional)
TOUR INCLUDES
• Experienced Tour Guides, Scenic drive
• Lunch, Beverages & Photo stops
Island Safari 4x4 Discovery -Rates: Adults: US $110 Children: US $60 Infants: US $25
Be greeted by your personalized driver/guide as you step into one of our comfortable zebra stripped safari Land Rovers and prepare yourself for an adventurous, fun filled tour. We promise to take you to the most beautiful places on the island inaccessible to those in buses and cars. Along the way, our informative guide will keep you entertained and share the folklore, culture. Learn of our history at the National Parks Interpretation Centre by seeing and imaginative film presentation. Take in the breath-taking panoramic view of Falmouth Harbour at Convert Hill there you will stop for a refreshing drink. As you board the Land Rover once more the next stop will be to Pot Works Dam, an expanse of freshwater that is reputed to be largest in the Eastern Caribbean. By now, you will have built up an appetite so were off to historic Betty's Hope, where a delightful lunch will be served. After lunch, we drive off to Devil's Bridge for a picturesque view of the rock formation, which has taken thousands of years to form. Finally yet importantly, we move onto our last stop, Long Bay, for a refreshing beach stop where you will have time to dip your toes in the warm turquoise sea or relax on the beach and work on your suntan.
Bring with you: Comfortable clothing and shoes, swimsuits, towels and high-level sunscreen. A camera is necessary.
A great tour for those who like to mix it up
Duration: 6 hours approximately
Activity Level: Easy (off-road jeep ride may include bumps)
TOUR INCLUDES:
• Experienced Tour Guides, Scenic drive
• Island-wide Site-seeing
• Lunch break and Cold Beverages
Sea View Heights Real Estate and Rental Agency, is not responsible for any changes in the prices, timetable and days of any of the above mentioned tours. If you are interested in taking part in any of our tours, please contact the manager of the agency, Miss Katia Fattarelli through e-mail This email address is being protected from spambots. You need JavaScript enabled to view it. or phone 1 (268) 462-6266.