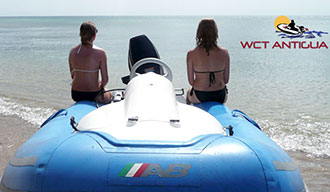 Go for a thrill on the water with our two-person watercraft. Take in the great views and do a bit of snorkeling at Cades Reef. Command your own vessel as you zip along Antigua's magnificent coast line. You needn't any experience to have fun. Adventurers of all ages are guaranteed a thrill of a lifetime ride that is sturdy, reliable and tons of fun! And safe, too--we have safety briefings prepared to ensure your safety during your time with us. After a brief introduction to the basics of this awesome watercraft, you and your pal are off on a ride upon the tropical waves of the Caribbean.
TOURS
Antigua Snorkeling Extravaganza!!
A 3 hour tour that lets you explore the west coast of Antigua on your own two passenger boat as well as stop to explore the fascinating life under the surface! Our carefully chosen snorkeling spot will give you the best experience and allow you to see the most sea life! If you love to snorkel this is the tour for you!
Prices:
US$70 each (2 people) - US$100 (1 person)
Let's Do It Your Way!!
Have a group of 6 or more??? We can cater a tour just for you where a guide will take you wherever you want to go! Call us and let us help you make your vacation one to remember!!
Sea View Heights, as Real Estate, Rental Agency and Tour Rep., is not responsible for the change in the prices, timetable and days of the tours. If you are interested in taking part in any of the tours shown, please contact the manager of the agency, Miss Katia Fattarelli through e-mail or phone 1 (268) 462-6266.