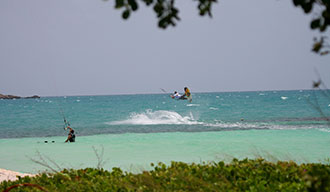 Kitesurfing Antigua is located on beautiful Jabberwock Beach on the North East side of the island. It is the perfect place to learn how to kite, or to take your riding to the next level. The warm Trade Winds blow here during the months of December through May, and also during the summer months of July and August. The wind direction is usually side-on which is great for all skill levels with mostly bumb and jump conditions, perfect for launching airs. We have a few flat areas for wakestyle tricks where we have a 60 foot A- frame slider and a kicker, and when the wind is from the North (more on-shore) the shorebreak can be really fun for bashing lips as well.
LESSONS
Instruction
Kitesurf Antigua provides quality lessons with certified instructors and the latest teaching specific equipment. Lessons should be booked well in advance (2 weeks lead time) to insure availability.
Beginner Special (4 hours, one day introductory course)
A single 4 hour "minimal" course which is intended to give you a taste of what the sport is all about. If you really want to get "into" kiteboarding you can upgrade to the clinic course. This course is offered as two-2 hour sessions and must be booked in advance. Sessions start at 9:00 AM and 1:00 PM daily.
1 Student – US$260
2 Student – US$200
Clinic (10 hours, 3 to 4 day complete course)
A complete course which caters to all levels: For beginners this course includes the Beginner Special lesson and advances them to an independent level (IKO levels 1&2). For novices the clinic serves as a "refresher course" and may also advance them to intermediate skill level. Our clinic course represents the best value and most effective way to learn.
1 Student – US$650
2 Student – US$500
Custom (hourly)
Anything from a minimal taster course to advanced hardcore. Have specific equipment setup requirements? Want advanced tuition including transitions, kite loops and wake style jumps? Have'nt kited in a while and need a refresher? These lessons will cover whatever you want.
1 Student – US$100 per hour
2 Student – US$90 per hour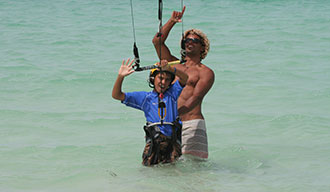 There is no guarantee that the goals within each lesson will be reached by every student. The goals however, are based on a typical students ability whom is in good health and very comfortable in the water. We will advance persons through the lessons only as fast as they are capable of learning. Some persons may not reach the goals and require further instruction to do so. Other persons may advance beyond the stated goals in a given lesson.
EQUIPMENT RENTALS
Rentals are provided as a convenience for experienced riders only. All riders will be screened, briefly on their basic skills including safety system use, rules of the road, riding location assessment, launch/landing technique, and self rescue prior to rental.
Students who have successfully reached IKO Kiteboarder Card Level 2 from KiteAntigua are also eligible to rent equipment.
Half day = 3 hours
Full day = more than 3 hours
Kite & Board – US$25 per hour, US$40 half day, US$60 full day, US$280 week
Kite Only - US$20 per hour, US$30 half day, US$45 full day, US$210 week
Board Only - US$10 per hour, US$20 half day, US$30 full day, US$140 week
Harness/Helmet - US $10 per day (minimum)
OTHER SERVICES
Storage
Need more space in the rental car? Sick of carrying the gear around in taxis? Store your gear in out trailor and have it available for you right on the beach.
US $10 per day, $50 per week.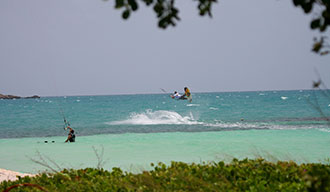 Kiteboarding ROAD TRIP!
Antigua offers several other places to ride which range from butter smooth conditions to wave riding. Riding at these spots requires local knowledge as they are off the beaten path and the launches can be tricky. The local boys have been riding these spots a long time and especially relish them as there is no such thing as a crowd! Let KiteAntigua take you there.
Advanced riders only, minimum 3 people.
US $75 per person
Sea View Heights, as Real Estate and Rental Agency, is not responsible for the change in the prices, timetable and days of the kitesurf lessons. If you are interested in taking part in any of the kitesurf lessons shown, please contact the manager of the agency, Miss Katia Fattarelli through e-mailor phone 1 (268) 4626266.