Antigua Tropical Adventures
Tropical Adventures Antigua– As the fastest 82' Power cat in Antigua, the "Excellence" gets you further from the crowds and gives you more time to enjoy the reefs and beaches! Relax on deck and be pampered by their friendly crew – as you sail and leave all of the world's worries behind. As you glide over the turquoise Caribbean waters, you will see palm fringed beaches, marine life and neighboring islands. Enjoy a variety of beverages at the full bar.
Cruises Include Pick up & return from hotel, lunch, beverages & snorkeling equipment.
Cruises offered:
EXCELLENT CIRCUMNAVIGATION – ON TUESDAY & ON THURSDAY – ADULT US$110 / CHILD US$65
They pick you up from your villa and they head in a northeastern direction. The experiences crew and Captain will point out picturesque spots including Bird Island, Green Island, Devil's Bridge, a natural rock formation occurring as a result of wind and wave erosion. Enjoy snorkeling, swimming, sun bathing or a nature hike. When lunch is ready you are welcome back onboard, the chef has a full BBQ grill and offers also choice for vegetarians. Rhythmic island music accompanies your day with them.
EXCELLENCE BARBUDA BY SEA – ON SATURDAYS – ADULT US$150 / CHILD US$95
Barbuda is well-know for its fine, pink sand beaches. They pick you up from the villa and pick up some speed as you head in a northern direction on the Caribbean Sea – towards Barbuda. It takes about 45 minutes across the water. They will anchor at one of the most beautiful beaches in Barbuda. Here you can safely make your way onto the sand. There are boats awaiting for your next, short journey through the mangroves to the "Frigate Bird Sanctuary". This is a true wonder, where you can see thousands of beautiful birds flying above and perched on their nesting areas. Back at the beach, enjoy snorkeling, swimming, sun bathing, onboard lunch.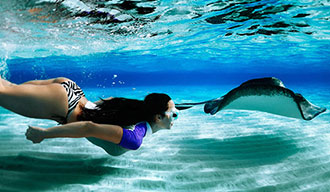 Aboard their Mystic Sailing Catamaran for a comfortable full day of enjoyment on the sea.
MYSTIC CADES REEF – ON THURSDAY – ADULT $95 / CHILD $55
Snorkel Antigua's best underwater scenery. Sail to Cades Reef, Snorkel, Drink & Lunch, Cruise along the coast to a beach for a swim and sail back.
MYSTIC SUNSET CRUISE - ON WEDNESDAY & FRIDAY - ADULT US$85 / NO CHILDREN
Be our guest on the lovely 'Mystic II' Catamaran as we set sail on a 'one of a kind' Tropical Sunset Cruise.
Antigua is blessed with some of the most majestic and stunning sunsets in the Caribbean, and undoubtedly the best away to experience this natural spectacle is aboard a catamaran at sea.
Upon boarding the Mystic you will be welcomed with a glass of sparkling wine, from the open bar, to sip on as you browse this sleek vessel. You can lounge on the sun deck or find a cozy little spot for you and that special someone.
The mood is romantic and relaxing, music will serenade you as the Mystic cruises through calm blue waters. Watch Antigua's fabulous coast line glide by; palm trees waving in the cool evening breeze and strips of dazzling white-sandy beaches, all set before rolling green hills.
As the golden sun begins it's decent below the distant horizon you will be overcome by its blissful splendour. This is the perfect opportunity to seal a toast with a kiss. Delicious hors' doeurves will be served as the Mystics drifts back to port.
CHAMPAGNE & LOBSTER TOUR - ADULT US$130 / CHILDREN US$115
Join us onboard the Sailing Catamaran "The Mystic" for a delightful day out sailing the Caribbean sea, along the beautiful coastline and view the many breathtaking white sandy beaches and boutique resorts. Visit one of Antigua's picturesque beaches surrounded by calm turquoise waters for a swim or work on your golden tan in the sunshine. Let the crew serve you refreshments on the beach. Fruit juices and soda's of your Choice.
Sail away passing the scenic west coast to Morris Bay and enjoy a second beach. Swim in the warm waters or relax under a Coconut Tree.
Onboard the Mystic Catamaran we create a scrumptious Lobster lunch buffet. Sip on a glass of champagne which will tempt you to relax a bit more.
The Mystic Catamaran will sail you back along the coast, relax and enjoy the warm tropical island breeze blowing through your hair. With an open Bar and the sound of sweet Caribbean music we will complete your day. You'll realize that "It really doesn't get any better than this".
Sea View Heights, as Real Estate and Rental Agency, is not responsible for the change in the prices, timetable and days of the tours. If you are interested in taking part in any of the tours shown, please contact the manager of the agency, Miss Katia Fattarelli through e-mail or phone 1 (268) 462-6266.