Antigua Tropical Adventures
Tropical Adventures Antigua– As the fastest 82' Power cat in Antigua, the "Excellence" gets you further from the crowds and gives you more time to enjoy the reefs and beaches! Relax on deck and be pampered by their friendly crew – as you sail and leave all of the world's worries behind. As you glide over the turquoise Caribbean waters, you will see palm fringed beaches, marine life and neighboring islands. Enjoy a variety of beverages at the full bar.
Cruises Include: Pick up & return from hotel, experienced captain and crew, lunch, beverages & snorkeling equipment.
Cruises offered:
EXCELLENT CIRCUMNAVIGATION – Rates: Adults: US $120, Children: US $65, Infants: US $25
See areas such as the Pillars of Hercules, Jumby Bay, Bird Island and the natural spectacle of Devil's Bridge, up close and personal. Be at peace with the world as you gaze at slender coconut palms swaying in the crisp breeze and listen to rhythmic calypso and reggae music as we sail along. We will whisk you away to a secluded and uninhabited Green Island, where you can relax on the beach, explore the nearby reef or swim in the warm turquoise waters. Back on board the friendly crew will cook you a delicious lunch of chicken or fish accompanied by salad and local vegetables. Next, we will cruise across to English Harbour, where you will discover one of the most prestigious and renowned historical sights in the world. Before we return to port, our journey will take us passed the exotic western coast of Antigua in clear waters, where virgin white sandy beaches and pristine bays can still be found.
EXCELLENCE BARBUDA BY SEA – This tour is temporarily out of service, due to the distruction of the island by Hurricane Irma.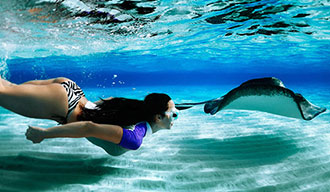 MYSTIC CADES REEF SAIL AND SNORKEL – Rates: Adults: US $100, Children: US $50, Infants: US $25
Relax on deck, be pampered by our friendly crew – as we set sail, and leave all of the world's worries behind on this day excursion. As we glide over the turquoise Caribbean waters, you will see palm fringed beaches, marine life and neighbouring islands. Anchored in a beautiful bay, you'll enjoy a sumptuous meal prepared by one of the Island's finest chefs. We will also serve you cool beverages throughout the day, including; fruit punch, soft drinks, water and rum punch. What more could you need… sun, sea and sand. This is Antigua. On board, you can view our beautiful island at its best. Be sure to bring your camera! As we sail gracefully along with the wind blowing in your hair, you'll realize that… it just does not get any better than this.
MYSTIC SUNSET CRUISE -Rates: Adults: US $85
Be our guest on the lovely 'Mystic II' Catamaran as we set sail on a 'one of a kind' Tropical Sunset Cruise. Antigua is blessed with some of the most majestic and stunning sunsets in the Caribbean, and undoubtedly the best away to experience this natural spectacle is aboard a catamaran at sea. Upon boarding the Mystic, you will be welcomed with a glass of sparkling wine, from the open bar, to sip on as you browse this sleek vessel. You can lounge on the sun deck or find a cozy little spot for you and that special someone. The mood is romantic and relaxing; music will serenade you as the Mystic cruises through calm blue waters. Watch Antigua's fabulous be our guest on the lovely 'Mystic II' Catamaran as we set sail on a 'one of a kind' Tropical Sunset Cruise. As the golden sun begins, it is decent below the distant horizon you will be overcome by its blissful splendour. This is the perfect opportunity to seal a toast with a kiss. Delicious hors'doeurves will be served as the Mystics drifts back to port. This tour departs from Dickenson Bay.
CHAMPAGNE & LOBSTER TOUR - Rates: Adults: US $130 Children: US $115 Infants: US $25
Spend the day sailing along the stunning Antiguan coastline taking in small unique bays with virgin sands and the turquoise waters of the Caribbean Sea. A stop at one of these beaches will allow you to feel the soft sand between your toes and the warm tropical water on your skin. All aboard once more, we sail away into the blue and along the scenic west coast where we put down anchor and allow you to dip your toes in the tranquil waters or top-up your tan, on yet another beach in paradise. While you soak in the warmth of the sun, a tasty lobster-lunch buffet is being prepared. Come on board and taste the succulent lobster, sip on a glass of sparkling wine and relax in the company of like-minded travellers. Enjoy the open bar, listen to the rhythms of a Caribbean melody and realize you really are in paradise. The Mystic Catamaran will sail you back along the coast ahead of warm tropical breezes, taking you back to port relaxed and waiting to do it all over again.
TOUR INCLUDES
• Experienced Captain & Crew
• Sailing the Caribbean Coastline
• Lunch, Beverages
• Beach Break
Sea View Heights Real Estate and Rental Agency, is not responsible for any changes in the prices, timetable and days of any of the above mentioned tours. If you are interested in taking part in any of our tours, please contact the manager of the agency, Miss Katia Fattarelli through e-mail or phone 1 (268) 462-6266.