Adventure Antigua offers three regular tours and many different private tour options. Each boat has been carefully designed to suit each tour they do.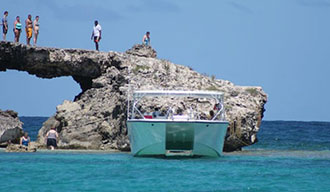 The Eco Tour- Rates: Adults US$115 per person
The emphasis of the tour is on the ecology and history of the area. The warm, clear waters, protected by over twenty little islands, countless reefs, flats and mangrove nurseries are always calm and there are perfect opportunities for spotting some of the local residents, including Turtles, Frigate Birds, Herons, Pelicans, Spotted Eagle Rays, Sting Rays, Barracuda, Osprey, Turns, Noddies, Laughing Gulls, and the beautiful Tropic Birds. The crew will talk about local flora and fauna and the interesting scientific turtle project at Jumby Bay, and guests will be entertained by their anecdotes and stories of local history and folklore. Before lunch, a snorkelling lesson will be given for those who have not snorkelled before or who want a refresher. All equipment is supplied and crewmembers will accompany both guided snorkelling sessions after lunch. For those who wish to enjoy spectacular views of the North Sound and the north coast of Antigua. Snorkelling gear, food and drinks are provided

The Xtreme Circumnav -Rates: US $170 per person
The main highlights of this Extreme adventure, making it totally unique, are the high speed Miami Vice style run through the amazing islands of the north sound with its myriad coral reefs. The exclusive Stingray City Marine Park where you can swim with the rays and other fish there, the Robinson Crusoe style, buffet lunch at Green Island with your toes in the water; the tour of Nelson's Dockyard with your own on-board local guide; the guided snorkel trip at the awesome Pillars of Hercules with its volcanic boulders below the surface, and the swim and beach combing at the extremely secluded and beautiful Rendezvous Bay. This tour is done within the same time frame as the Eco-Tour, and we manage to do this because our Xtreme boats are FAST. Between stops, our boats will race you past the beaches and shores of Antigua so you had better be a quick counter to get the 365! There are however a few things you have to keep in mind before you decide to go on this tour because, like the Eco-Tour, this tour is not for everyone.
1) The boat is a high performance 45-foot powerboat using three, eco-friendly, 225hp Four Stroke Yamaha engines that sip fuel. Top cruise speed is an exhilarating 40 MPH which we will be doing passing the islands of the North Sound. If you "feel the need for speed" then this will be your favourite part of the trip! However, if high-speed thrills have never been your thing, then you would definitely be happier on the slower paced Eco-Tour or even The Classic Yacht Tour.
2) Although the boat has been designed for comfortable high speed cruising offshore, the 5 mile run from Stingray City to our Lunch Spot on the North of Green Island could be a little "bumpy" for some depending on weather. This tour is not recommended if you are pregnant. However, if you are the kind of person who likes some excitement and wants to experience what an offshore powerboat race feels like then the spray of this wild, open water section will keep you smiling.
3) This is not the booze cruise your parents did in the "good old days". If you are "young at heart" and not "faint of heart", it could just be the thrill of a lifetime. With five stops along the 50 miles run around the island, this tour is action packed. The speed of our Xtreme "bus" means that we have more time to make stops while going around the island of Antigua.There is no other trip on the island that does as much in a single day.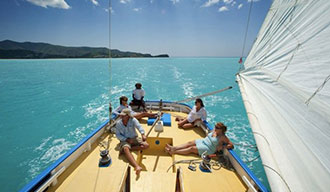 The Antigua Classic Yacht - The Antigua Classic Yacht -Rates: US $170 per person
This tour is once again very characteristic of all tours designed by Eli Fuller. Like The Eco Tour and The Xtreme Circumnav, The Antigua Classic Yacht has themes of history, ecology and adventure. This one takes you deeper into the historical experience by leaving you with first-hand knowledge of what goes into building one of these magnificent vessels.
Our tour is very simple and authentic. You join the Ocean Nomad on the West Coast in Jolly Harbour Marina and sail on a straight reach to our Cades Reef mooring where we will snorkel with one of our guides in the clear waters there, which are always teaming with fish. From Cades it will be a short motor sail up to the beautiful Carlisle Bay where we will have a delicious Adventure Antigua lunch and watch the turtles, which are very common there. While the crew preps lunch, you will have another opportunity to snorkel. After lunch, you can relax under the shade of the awning or have a gentle swim while the crew prepares the boat for the relaxed afternoon sail back down to the West coast. On this unique cruise, you can decide how much you would like to take part in sailing this classic vessel. Engine off and only the sounds of the water and winds caressing this wonderful vessel. We will teach you the basics of sailing if you like and we will give you info about how this historical vessel was built. As we pass along Cocos, Cocobay and Jolly Beach you are almost guaranteed to see large green turtles coming up for air. We sail right along the biggest foraging area for these critically endangered species. Our last stop is at the deserted Pincheon Beach on Antigua's west coast. This beautiful beach with its unique tide pools is a great hidden gem. Private charters and day sailing excursions are available.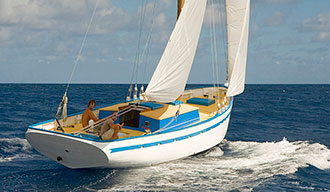 Private Charters
They are available for private charters as well which can be designed according to your group's needs. They also offer Barbuda tour.
Sea View Heights Real Estate and Rental Agency, is not responsible for any changes in the prices, timetable and days of any of the above mentioned tours. If you are interested in taking part in any of our tours, please contact the manager of the agency, Miss Katia Fattarelli through e-mail This email address is being protected from spambots. You need JavaScript enabled to view it. or phone 1 (268) 462-6266.