Antigua Cool Cat Private Charter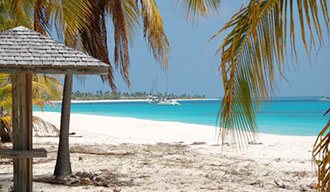 "COOL CAT" is the largest Privately owned Day Sailing catamaran yacht in Antigua. She is a beautiful 48 foot Fountaine Pajot, Belize Platinum Edition Catamaran with a HUGE cockpit and deck space for 2 – 14 guests. She will carry you comfortably and safely on your Ultimate Private Day Sailing experience. "Cool Cat" is extremely comfortable and spacious and very safe for small children. She has 4 double cabins, each with on suite bathroom, to provide our guests with private facilities for changing before and after water activities. There is also a fresh water shower on the transom.
Whilst at anchor, your lunch will be served to you on our large cockpit table. If it should happen to rain then we will set you up inside our even larger internal saloon table. There is also a large Weber barbeque or a "Braai" as we call it in South Africa, unit on the transom which Wayne will grill either your delicious chicken or Lobster for lunch.
"Cool Cat" has Twin Yanmar engines to complete the specification of this superb yacht.
SAFETY ON "COOL CAT"
Catamaran Sailing Antigua is very Safety conscious and it is very important for us on "Cool Cat", there are no exceptions.
Cool Cat is extensively equipped to USCG specifications as follows:
•2 x offshore life rafts with a total capacity of 14 people.
•1 x full set of distress flares.
•2 x horseshoe life buoys each with automatic night- light.
•1 x telescopic Dan buoy.
•Full compliment of life jackets with lights.
•5 x ABC Dry Powder fire extinguishers located one in each cabin plus one in the saloon.
•1 x VHF Transceiver radio
•Our dinghy and outboard are available at all times for ship to shore transport and safety cover during water activities.
All safety items are regularly serviced and annually inspected by the Antiguan Dept. of Marine Services and are "in date" at all times. (see our Passenger Safety Certificate).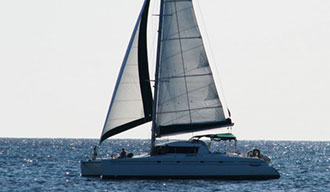 NAVIGATION ON "COOL CAT"
Navigation is also well covered with:
•2 x GPS Receivers
•1 x wind speed and direction display
•1 x boat speed and depth display
•1 x Raymarine electronic chart plotter
•Large scale paper charts
•Autopilot c

THE CHARTERS

FULL DAY CRUISE (8 HRS)
"Cool Cat" will glide across the shimmering Caribbean waters. You can absorb Antigua's natural beauty & picturesque views as we sail past many beautiful bays & lovely homes & resorts. We anchor for a relaxing swim or snorkel while your hosts prepare a delicious Caribbean lunch. After lunch we set sail again to the clear waters of Cades Reef where the marine life and coral are abundant. Our last stop will be at one of Antiguas 365 beaches. We sail back to Jolly harbour while you admire a spectacular sunset & listen to the sounds of water lapping up against the hull.
HALF DAY CRUISE (6HRS)
Once we leave the dock our sails are hoisted and so your journey begins ! We sail to Cades Reef to sample the incredible fish and coral life. With water so clear, you would think your in your very own swimming pool. We will show you "Tim's wreck". A sailboat that sank a few years ago and is always a fascinating sight to see. After your freshly grilled lunch there's plenty of time to relax, snorkel or just float around in the ocean before we set sail to one of Antigua's 365 beaches for more snorkeling, swimming or a stroll on the beach.
LUNCH CRUISE (4 HRS)
Seaside Dining – Antigua Style. Your elegance cruise starts with a gentle sail aboard Antigua's most luxurious catamaran. We sail to beautiful white sandy beaches and calm bays where we drop the anchor for an enjoyable relaxing snorkel or swim. Your delicious Caribbean lunch will be prepared on board when you're ready.
SUNSET CRUISE (3 HRS)
Our Sunset Cruises will leave you breathless as we sail the gorgeous West Coast of Antigua. This is a good time for turtle watching together with the brilliant colours of the sky, hopefully a glimpse of the spectacular "green flash"
SPECIAL DINNER CRUISES
This "Special Dinner Cruise" departs from Jolly Harbour for a Caribbean evening experience on the water sailing along the beautiful coast line of Antigua. This is a 5 star experience. We will pamper you as you settle in to watch a beautiful Caribbean sunset aboard "Cool Cat". Your hosts will prepare a delicious 3-course feast! This is truly a unique experience. Fine dining at it's best whilst on-board "Cool Cat".
BARBUDA & ISLAND HOPPING CRUISES
Cool Cat is a beautiful 48 ft Belize Catamaran. She has all the bell's & whistles of luxury comfortable sailing. All cabins have air-conditioning, Cool Cat will sail you to any Island of your destination, you choose your itinerary, book your tickets & we will pick you up at the dock to take you on your most adventuroussailing experience ever. We offer 5 star luxury charters for you & your family. For more information please send Wayne & Lara an email.
Barbuda seems to be one of those Caribbean Islands that remains so undeveloped. Walking along the 11 mile beach it almost seems deserted at times. Barbuda's endless white and pink sand beaches are left to the peaceful wanderings of those lucky enough to be there. Barbuda is very relaxed, beach-combing, snorkeling, diving, or simply soaking up the sun and taking in its peace & quiet. Points of interest on Barbuda are the Frigate Bird Sanctuary, the truly noteworthy pink and white sand beaches, there are numerous shipwrecks and beautiful reefs. The island is home to the luxurious K-Club, Coco Point Lodge and Hotel Palmetto resorts, as well as to a number of other hotels and comfortable guest houses. "Cool Cat " will leave Jolly Harbour and sail to Barbuda. There we will anchor for the 2 nights, enjoying the brilliance of what we call "a Caribbean Milky-way".
SURF & TURF TOURS
Catamaran Sailing Antigua now offers you the choice of our exciting new "Surf n Turf tours & cruises" Always wanted to spend a day out at sea & do an Island tour ? Well now you can. You will be picked up in our luxury air conditioned vehicle and delivered to your own private Catamaran for the day to spend 4 breath taking hours on a sailing cruise. After lunch you will be whisked away in our shuttle,fully air-conditioned luxury vehicle on a 4 hour Island tour admiring Antigua's beauty from land. Drive through the Rain Forest and visit some of the most picturesque beaches Antigua has to offer.
SPECIAL OCCASIONS
Renewal of vows
Honeymoon couples
Birthdays
Anniversaries
Proposals or getting married onboard?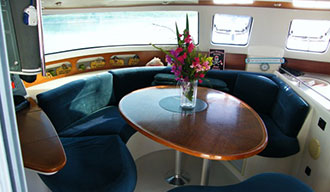 All OUR PRICES ARE INCLUSIVE OF:
Delicious freshly prepared meals, snacks, fruit platter / fresh home made cake & cocktails
Open Bar (this bar never closes) – local beers, wines, local rum, soft drinks & cold bottled water
Snorkeling equipment – snorkel vests, floating noodles, life vests
Taxi to & from Jolly Harbour are not included in price
Just bring your swimwear, beach towels & sun screen
WANTING SOMETHING EXTRA SPECIAL
Sparkling Wine @ U$25 per bottle
Lobster Lunch @ U$25 per person
Champagne @ U$50 per bottle
Please Ask for a quote
Sea View Heights, as Real Estate, Rental Agency and Tour Rep., is not responsible for the change in the prices, timetable and days of the tours. If you are interested in taking part in any of the tours shown, please contact the manager of the agency, Miss Katia Fattarelli through e-mail or phone 1 (268) 462-6266.