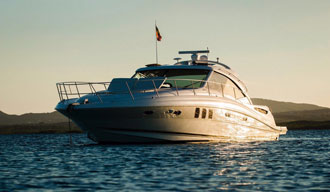 Try a getaway on our 51Ft luxury Motor Yacht
Charters are private and designed by your needs and wants, we make your dreams a reality! From our base in Shell Beach Marina, on the northern side of Antigua, in the Leeward Islands, we are within easy cruising range of many fabulous beaches, snorkel and dive sites.
The itinerary on any given day depends on the guests' interests as well as weather and sea conditions, bearing comfort and safety in mind. Meals are always served while the boat is anchored or moored, but beverages from bottled water to Rum Punches are available throughout the day.
PRIVATE CRUISE
We believe the true meaning of Private cruise is the ability to have the time with only your friends and family to enjoy many wonderful experiences without rushing. Indulge yourself, have an extra day on the beach, swim in a school of fish. "Work" on your tan as you sample another tropical drink. See if you can count all the shades of aqua in our waters. Look for the elusive green flash at sunset.
ISLAND HOPPING
If you've "been there, done that," we'll show you something new. Ever seen the volcano in Montserrat? How about the Monkeys in St. Kitts? Stay with us for several days and we'll have you shop in St. Marteen, have dinner in St. Bart's. See the Frigate Birds in their Sanctuary on Barbuda. How about grilled lobster on the beach? Options abound; the only hard part is deciding which way to go. We'll help you with recommendations, based on what you like to do. Plan your cruise early; you may just have to come back for yet another day on Sanity to fit it all in!
SANITY
Just over 51 feet this luxurious motor sport yacht is a step above the rest. Fully Air-conditioned & equipped with Wi-Fi, Bose sound system, Flat screen TV's/DVR combo. Two state rooms with full head with showers and room to sleep friends.
The large galley is nicely equipped for the hungry seafarer, with a two burner stove, convectional microwave, popcorn maker, refrigerator/freezer, and coffeemaker. For those who like to sunbathe the forward deck converts conveniently to a sun pad with back rest.
An electronic swim platform takes you down into the ocean with ease for all your sea adventures. A hot and cold deck shower refreshes you after a dip into the blue sea. Fully equipped with dingy / Jet-ski and meets all European, Caribbean & U.S. Coast Guard requirements.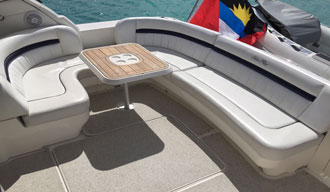 PICK UP
If your plans don't allow you to come to Shell Beach to meet the boat, we can arrange to pick you up from just about anywhere in Antigua. We can arrange to pick you up from the airport, cruise ship, your resort or even another Marina. Start your cruise in an island and end in another, it's really your choice.
CRUISE GUIDE
FULL DAY - ISLAND CRUISE
Depart from your resort at 10:00 a.m. return by 4:00 p.m.
Customized itinerary and menu (from our many selections), based on your interests / preferences. Includes Snorkeling, beach, sightseeing, open bar and buffet lunch.


1/2 DAY - ISLAND CRUISE
Depart from your resort at either 10:00 am to 1 pm or from 1 p.m. return by 4:00 p.m.
Sightseeing, beach, snorkeling, open bar and hors d'oeuvres / snacks.


SUNSET CRUISE
Depart from your resort at 5:00 p.m. return by 8:00 p.m.
Open bar, sightseeing, snacks.


CIRCUMNAVIGATE ANTIGUA
Depart from your resort at 10:00 a.m. return by 4:00 p.m. Historical sightseeing around Antigua, snorkeling, open bar and buffet lunch.


OFFSHORE ISLAND TRIP
Depart from your resort at 10:00 a.m. return by 5:00 p.m. Visit one of our neighboring Islands includes sightseeing, snorkeling, open bar, lunch, hors d'oeuvres and snacks.


PLEASE NOTE
Included are Captain and Steward / First Mate, meals, beverages on board, fuel, water, cruising permits and use of our water toys.

Day Charter - We can accommodate up to ten persons on our day cruises
Longer Charters - Our configuration is ideal for one couple however, we can accommodate families of up to four by sleeping one or two children on our fold out bed in the salon.
Bookings are confirmed upon receipt of payment and confirmation of our charter agreement.
If you must cancel, we will do our best to re-schedule.

Sea View Heights, as Real Estate, Rental Agency and Tour Rep., is not responsible for the change in prices, timetable and days of the tours. If you are interested in taking part in any of the tours shown, please contact the manager of the agency, Miss Katia Fattarelli through e-mail or phone 1 (268) 462-6266.