Antigua Treasure Island Cruises
They offer different tours on the Caribbean Sea.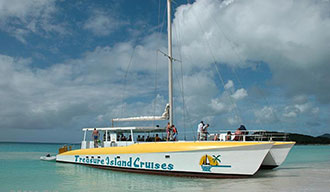 CADES REEF – FULL DAY – ON TUESDAYS – ADULT US$120 / CHILD US$60
This is not the typical sail and snorkel tour, primarily because it features an array of local culture including live steel band music, dancing and a sampling of local. The tour begin with a sail along the tranquil and picturesque coastline of Antigua, then makes its way towards the southern part of the island for an unforgettable experience of snorkeling at two-miles long Cades Reef. View Montserrat, the island with the Soufriere volcano still active. At Fryes beach you will experience their famous BBQ and you will spend time for beach cricket, volleyball, or some other activity and on the way back enjoy the party on the boat.
CIRCUMNAVIGATION – FULL DAY – ON WEDNESDAY & SATURDAY - ADULT US$120 / CHILD US$60
Sail around the entire island as you learn about our heritage and historical sights and landmarks such as: Long Island, Devil's Bridge, Pillars of Hercules. This tour starts at the western coast, making its way north to Green Island, which is the largest uninhabited island in the North Sound National Park. On you way there, the Captain will give you information on the Prickly Pear Island, Long Island, Devil's Bridge and several other landmarks. Green Island offers great snorkeling in shallow waters, where you can see marine life. Enjoy a swim or just relax on the beach before indulging in a delicious feast of Caribbean cuisine. After lunch, the tour continues around the east south coast for a scenic sea tour of spectacular Nelson's Dockyard. On the way back enjoy the party on board.
BIRD ISLAND – FULL DAY – ON THURSDAY - ADULT US$100 / CHILD US$50
Great tour for families! Great Bird Island forms part of the North Sound National Park, which is home to many species of birds and a wide range of plant life. Due to the large concentration of mangroves, which promote rich marine life, Great Bird Island is one of the best place to snorkel. Enjoy the BBQ picnic lunch. Your time on the island comes to an end when someone finds the treasure on our famous "Treasure Hunt". We set sail early afternoon for a party with the crew back to your hotel.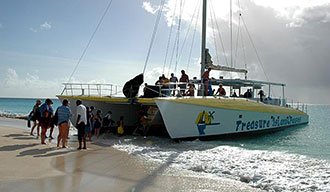 PRIVATE CHARTER
Private charters offer you the privacy of having a boat to yourself and the freedom of a designing a tour. They can accommodate a small group of ten and under or a larger group of up to ninety passengers.
Sea View Heights, as Real Estate and Rental Agency, is not responsible for the change in the prices, timetable and days of the tours. If you are interested in taking part in any of the tours shown, please contact the manager of the agency, Miss Katia Fattarelli through e-mail or phone 1 (268) 462-6266.