The "Life's-a-Picnic" boat cuts through the crystal clear waters in style. Her twin engines that are hidden for a quiet, but exhilarating ride. She's wide so you'll have plenty of room to move around. Recline in her bow, which features two glamorous chaise lounges which can quickly convert to a spacious sun pad. At her stern, you'll find a curvaceous chill-out lounge and additional chaise lounge that can comfortably seat eight adults. This sexy power yacht also includes a quality acoustics sound system, a complete wet bar with refrigerator and sink, and an onboard/offboard gourmet gas grill. Just add a menu of gourmet food, fine wines and champagne for a magical day cruise on the water.
Power Yacht Charter Spec.
Boat Name: Life's-a-Picnic
Boat Model: Sea Ray SLX 30ft Bowrider
Boat Size: 30ft. length, 9.6ft. wide
Number of Passengers: Maximum 6 Guests (+2 crew)
Engines: X2 Mercruiser T350, 300hp

"No matter where you escape to, you cannot escape your hunger, so let us prepare your Life's-a-Picnic hamper so you can concentrate on enjoying life's special moments. Our day tour picnics are prepared with fresh seasonal ingredients handpicked especially for you and tailored to your specific dietary needs."
Life's-a-Picnic, private power yacht charters are designed to give you exceptional island tours in Antigua & Barbuda."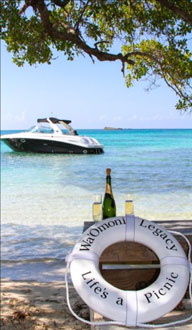 Discover the beautiful coastlines of Antigua and Barbuda at your own pace aboard 'Life's-a-Picnic' private boat charter. Use your day charter to escape to the solitude of a deserted island beach, stay on board and enjoy lunch moored amidst breathtaking scenery. Add swimming, snorkeling or sunbathing to your picnic tour itinerary. How you spend your day is up to you, we just provide the magic for an exceptional day out.
The Life's-a-Picnic experience provides gourmet picnic food for private charters for up to 6 guests. Included are: 2 crew members, fuel, champagne welcome, your chosen picnic menu and your choice of wine. Additional drinks both alcoholic and non-alcoholic.
Day Charter with Gourmet Picnic – full day – $1,400.00 USD
Champagne Breakfast Picnic – half day – $1,050.00 USD
Cheese & Wine Pairing Sunset Picnic – half day – $1,050.00 USD
Charter rates are subject to 10% Booking Fee
Skippered Bareboat Charters are based on day tours for up to 6 guests. Included in the package are crew and champagne welcome drink. On the boat charter guests are able to take along their own prepared food and drink. Glassware, cutlery and crockery will be provided. Still and sparkling water also provided. Alternatively, guests may be transported to a waterfront restaurant (restaurant bill at guest's expense).
Skippered Bareboat Charter – half day – $850.00USD + Fuel
Skippered Bareboat Charter – full day – $1,000.00USD + Fuel
Charter rates are subject to 10% Booking Fee
Fuel for Skippered Bareboat Charters is estimated by our typical experience and charged by the amount of fuel used. Fuel costs are based on $7USD per gallon, a typical day's fuel will cost $250USD. Pick-up and drop-off fuel is charged.
Bespoke Special Occasion Boat Charter Packages in Antigua & Barbuda are priced individually depending on guest requirements.
Because romance is very much alive and we love to celebrate weddings, birthdays, honeymoons and anniversaries bespoke private power boat packages are our pleasure. Suggested locations include: private island picnic, surprise picnics, themed beach picnics, picnics in unusual locations and beach picnics in Barbuda. Join us aboard our sleek power yacht and we will create a magical experience for you. We work with the best wedding planners, florists, photographers and hotels on Island.
Safety Notes
We are fully insured for third party liability. Your Safety is priority, we exceed USCG certified standard, with an automatic fire suppression system, three fire extinguishers, VHF, one floating handheld VHF for guests on shore safety, 12 life jackets, GPS distress signal alert, full navigation equipment and First Aid Kit. Crew-members are RYC trained and CPR qualified.
The captain reserves the right to cancel a charter on any given day due to inclement weather. We also reserve the right to terminate a cruise throughout a private charter day at any point under health and safety grounds that may endanger crew, passengers or other members of the public.
Sea View Heights, as Real Estate, Rental Agency and Tour Rep., is not responsible for the change in the prices, timetable and days of the tours. If you are interested in taking part in any of the tours shown, please contact the manager of the agency, Miss Katia Fattarelli through e-mail or phone 1 (268) 462-6266.