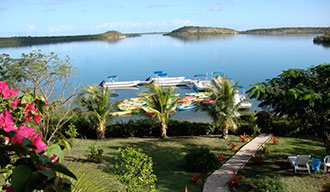 Antigua Paddles Tour- kayaking, swimming, snorkeling, hiking.
A unique eco-tour not to be missed. Experienced guides will ensure you enjoy a half day (4 hours) of kayaking, snorkeling, power boating and hiking on the beautiful east cost of Antigua.
From the quaint fisherman's cottage clubhouse at Seatons' Village, you will head out by motorboat through Mercer's Creek to a 144ft raft where kayaks are moored in a quiet lagoon. After a short safety brief and demonstration on technique, our knowledgeable guides will show you tiny uninhabited islands, inlets, fish spawning areas and teach you about the delicate mangrove Eco system.

To complete the adventure, after kayaking and refreshments, the motor boats will whisk across to the North Sound National Park so you can explore uninhabited Bird Island and snorkel over coral reefs where you will marvel over the variety of tropical fish.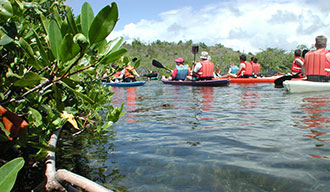 "Paddles" Kayak Club has experienced guides proficient in first aid. VHF & mobile phones, four 24ft motorized boats, 13 ft two-seater 'sit -on-top" ocean kayaks. Dual blade paddles, aqua shoes, masks and snorkels. The Clubhouse has toilets and changing rooms and a small selection of Caribbean gifts for sale. Approved by and a proud member of the Antigua Environmental Eco Awareness Group.
US$60 Adult – US$50 Child 12 years and under (Minimum age 7 years)
Available Monday to Friday
Sea View Heights, as Real Estate and Rental Agency, is not responsible for the change in the prices, timetable and days of the tours. If you are interested in taking part in any of the tours shown, please contact the manager of the agency, Miss Katia Fattarelli through e-mail or phone 1 (268) 462-6266.